Buck Baker - NASCAR Inactive - GoNascarGo.com
Buck Baker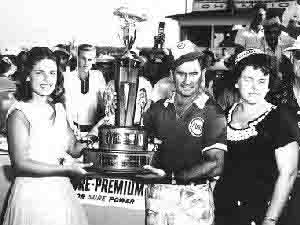 BUCK BAKER
Buck Baker learned how to drive bootlegging in the Carolinas. He used what he had learned, and in 1946 he joined NASCAR in their inaugural season. His first victory came in 1952 in Columbia, SC and in 1953 Baker won the Southern 500. With three other wins that year he landed fourth place in the points by the end of the season. By 1955, Buck Baker was Grand National Championship runner up.
Buck joined with Karl Kiekhaefer and Ray Fox in 1956. From March 25th to June 3rd, Buck won eight out of sixteen races he ran in. With a season total of 14 wins and 12 poles Buck Baker won the 1957 Grand National Championship. In 1956 Baker became the first driver to win back to back Grand National Championship titles, placing 760 points ahead of Marvin Panch, runner up. He won ten races and five poles that season. Again in 1958, Baker was the points runner up, losing to Lee Petty.
Baker retired from racing in 1976. His career total of 682 starts places him third on NASCAR's list of most starts and he is ranked 13th on the all time victory list with 46 career wins. Baker had a total of 44 pole starts and an amazing 372 top ten wins in his 30 years of racing. He is listed as one of NASCAR's 50 Greatest Drivers as well as being a member of NMPA Hall of Fame, National Auto Racing Hall of Fame, International Motorsports Hall of Fame, and the North Carolina Sports Hall of Fame.
Buck Baker Racing School
In 1979, Buck took all of his racing knowledge and opened the Buck Baker Racing School in Rockingham. Some of NASCAR's best drivers attended Buck's school including but not limited too Jeff Gordon, Ricky Craven, and Jeff and Ward Burton. Buck Baker passed away in April of 2002 but his family still operates the racing school.