Marvin Panch - NASCAR Inactive - GoNascarGo.com
Marvin Panch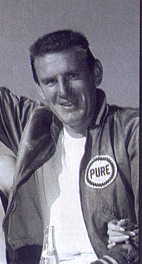 MARVIN PANCH
Marvin Panch began his racing career in 1955. He did so well driving for Tom Harbison, a Pennsylvania auto dealer that Pete DaPaolo offered him a spot driving a Ford. In 1956 Panch won his first Grand National race at Montgomery, AL finishing a lap ahead of Buck Baker in the 100 mile race.
The 1957 season began with Panch winning the first two races of the season at Lancaster, CA and Concord, NC. He won again at Spartanburg, SC in April. In June of 1957 Marvin Panch was dealt a career set back when the Automobile Manufacturers Association pulled out of racing because of an accident in Martinsville. Billy Meyer's car ended up over the retaining wall and in the stands where fans were.
After the AMA pull-out, the Holman-Moody shop offered drivers a few Fords to finish out the season. Panch won three more races for a season total of six wins and finished in the top-five 22 times in his 42 starts. But the pull-out of the Ford Factory team was a blow to his career and in the next three seasons Marvin Panch had only 24 starts. "We just didn't have the money to run our own team, and I was never able to get back into a good car until Fireball called. Those were some hard times."
In 1961, prior to the Daytona 500, the mechanics in Smokey Yunick's garage suggested that they run the 1960 Pontiac they had run in the previous Daytona. Smokey was doubtful, the car was banged up from Fireball smacking the wall somewhere. When Smokey asked Fireball who they should put behind the wheel, Fireball suggested Marvin Panch. Before the race Yunick told Panch to stay about a half lap behind Fireball (he didn't want both cars involved in a wreck) and that is just where Panch was when Fireball's engine blew. Panch went on to take the checkered flag 16 seconds in front of Joe Weatherly. Panch's career was back on track.
Marvin Panch and the Wood Brothers
The following year Marvin was hired by the Wood brothers. In 1963 Panch was rescued from his burning car by Tiny Lund. Although doctors told him he would never race again Panch won at North Wilksboro later that season. Between 1962 and 1966 Panch, in a Wood Brothers Ford, would win eight races, have 11 second place finishes and 11 third place finishes. "We had a lot of success together." Panch said.
Panch's career took another bad turn in March of 1967. A dispute between the Ford Motor Company and NASCAR's president, Bill France led to Ford pulling out of NASCAR. All was not lost this time though. A suggestion from Richard Howard, general manager of Charlotte Motorspeedway, saved the day. Howard wanted to get some of the Ford drivers into his race. He called Panch who said he would love too but didn't have a car. Howard told Panch to give Lee Petty a call and a day or two later Panch had a ride. Panch went on to win the Charlotte 600. It would be his 17th career win and it would be his last.
Marvin Panch was inducted into the NMPA Stock Car Hall of Fame in 1987. He is also listed as one of NASCAR's 50 Greatest Drivers.