Fonty Flock - NASCAR Inactive - GoNascarGo.com
Fonty Flock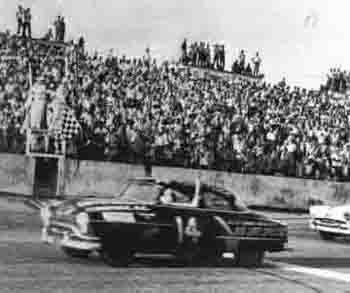 FONTY FLOCK
Fonty Flock was another driver that developed his driving skills by running moonshine. Flock used to taunt the local sheriff into chasing him just to prove his car was faster. Flock would get the best parts for his car knowing the sheriff did not have the resources to make his car as fast as Fonty's.
Before World War II Fonty Flock raced in the semi-organized circuits of the time. In 1940 he won a 100 mile race at Lakewood Park in Atlanta. Before heading to Daytona Beach to try his luck on the beach/road courses, he did some dirt track running in Georgia.
In 1941 Fonty Flock entered his first Daytona race and won the pole alongside driver Roy Hall. Flock led Hall early in the race but Hall wouldn't let up and eventually they made contact in the south turn, sending Flock tumbling end over end. His seatbelt snapped and Flock was thrown from the car with major injuries including a crushed chest, head and back injuries, a broken pelvis. He was rushed to the hospital in severe shock but remarkably he survived.
Auto racing was banned 4 months later after the bombing of Pearl Harbor and wasn't allowed again until 1945. However, due to his massive injuries, Flock missed both the '45 and '46 seasons and couldn't compete until mid 1947.
FONTY FLOCK'S RETURN TO RACING
Upon his return to racing, older brother Bob Flock got Fonty a ride with car owner Ed Schenck for the inaugural race at North Wilksboro Speedway in 1947. Although he had been away from racing for nearly four and a half years, he won the pole position and went on the win the 30 lap contest in front of a crowd of 10,000 spectators, beating both Glenn Dunaway and Pepper Cunningham.
Fonty went on to win at Greenville, SC a month later followed by a win at Greensboro, positioning him in contention for the points race. He won again at Charlotte and then at Trenton, driving for Al Dykes. At one point in the season Bob and Fonty Flock were tied for first for the National Championship title.
In October at Spartanburg, Bob Flock crashed his #14 Ford while driving for Raymond Parks. The crash left the older Flock with a broken back. Fonty Flock stepped in to replace Bob.
With 47 starts in the 1947 season and seven wins Fonty Flock finished 235 points ahead of Ed Samples giving him the National Championship Stock Car Title.