Tim Flock - NASCAR Inactive - GoNascarGo.com
Tim Flock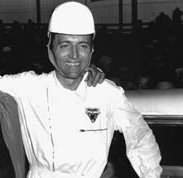 TIM FLOCK
Julius "Tim" Flock got his start in racing thanks to his older sister Ethel and her husband in 1948. Tim's brothers, Bob and Fonty, both NASCAR drivers tried to talk him out of entering the sport. He started racing Modifieds in 1948 and by 1949 he was ready for the big time.
In 1949 Tim raced in NASCAR's inaugural Winston Cup race at Charlotte and placed fifth. The first official season ended with Tim Flock in eighth, Fonty Flock in fifth, and brother Bob in third in the overall points standing. Tim had to sit out the 1950 season recovering from a four car pile up at Charlotte.
Tim Flock returned to racing in 1951 and won seven races and six pole positions placing him in third place, just 339 points behind Fonty. 1952 proved to be a good season for the younger Flock as well. In 34 starts he won eight races and four poles. By the end of the 1952 season Tim Flock had 106 more points than Herb Thomas, earning him his first Grand National Championship title.
'53 saw Flock on the pole four times. He had one win at Hickory giving him a sixth place finish for the season.
Tim Flock's Record Breaking Season
Tim Flock's 1955 season was a record breaking one. He had 18 wins in 45 races; a record that stood until broken by "The King", Richard Petty, in 1967. Flock had 19 poles and turned 11 of those into checkered flags. He led 40% of the laps raced that season.
Tim Flock won the pole in the first race of the 1956 season and went on to take the checkered flag. He had three more wins and four more pole including a pole start and win at the Daytona Beach/Road Course.
Flock retired from racing in 1962 with 40 wins in 189 starts and a win percentage of 21.2%. He is remembered for his love of beach races and most considered him to be the best beach course driver ever. Fans also remember that Flock raced eight races with his pet monkey, Jocko Flocko. Jocko the monkey actually got loose during one race and Tim had to make a pit stop because the monkey had him around the neck.
Tim Flock passed away in March of 1998 but not before being named to the NMPA Hall of Fame as well as the State of Georgia Hall of Fame, the International Motorsports Hall of Fame, and the Charlotte Motorspeedway Court of Legends. In a private ceremony a month before his death NASCAR also honored him as one of their 50 Greatest Drivers. The official ceremony took place in January of 1999.