Buddy Baker - NASCAR Inactive - GoNascarGo.com
Buddy Baker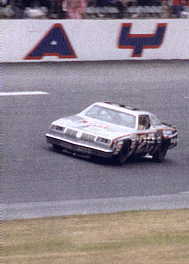 BUDDY BAKER
As the son of legendary driver Buck Baker, racing was in Buddy's blood. During Buddy Baker's 34 year career he became known for his record-setting speeds. "Lead Foot" or the "Gentle Giant", as Buddy was sometimes called, became the first driver to race over 200mph on a closed course in 1970, at Talladega. In 1980, Buddy won the Daytona 500 with an average speed of 177.602; a record that stills stands today.
With wins at Talladega, Daytona, Darlington, and Charlotte, Buddy Baker became the first driver to win NASCAR's "Big Four". Buddy had four wins at Talladega; two in 1975, one in '76 and then again in 1980. He had wins at Charlotte in '67, '68, '72, and 1973. In 1970 and 1971 he won at Darlington and in 1980 and 1983 he won in Daytona.
Buddy Baker in the Gray Ghost
In the 1980 Daytona 500 Buddy Baker drove what was considered NASCAR's fastest and scariest car, the "Gray Ghost". It had earned its name because during the race it would sneak up behind another driver being almost impossible to see because the gray and black paint job made it blend in with the track. After Buddy's Daytona win some of the drivers complained to NASCAR and Buddy was forced to put Day-Glo strips on the car.
Before retiring from driving Buddy had accumulated 19 wins. His 202 top-five finishes and 311 top-ten finishes rank him ninth on NASCAR's all time list. Among his other records he also holds the spot for the all-time lap leader at Talladega with 1,099 and with 40 poles he ranks tenth on the all-time list.
In 1995 Buddy Baker was inducted into the Charlotte Motorspeedway Court of Legends and in 1997 he was inducted into both the NMPA Hall of Fame and the International Motorsports Hall of Fame. He is also one of NASCAR's 50 Greatest Drivers.