Robert Red Byron - NASCAR Inactive - GoNascarGo.com
Robert Red Byron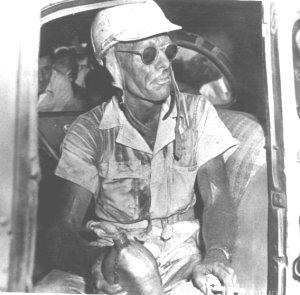 ROBERT "RED" BYRON
Red Byron is considered one of the pioneers of NASCAR. Byron started racing in the early 1930's. After being shot down on his 58th mission as a tail-gunner in World War II many wondered if his damaged leg would ever allow him to walk again much less continue racing. Red spent 27 months in military hospitals where doctors worked on healing his left leg. Byron beat the odds and returned to racing in February of 1946 at the Seminole Speedway in Florida. With his left foot in a steel stirrup bolted to the clutch of a car owned by Raymond Parks, Byron won the race placing ahead of Bob and Fonty Flock, Mad Marion McDonald, Roy Hall and Bill France.
In 1947, after a brief career in AAA cars, Red Byron finished third in points in his return to stock cars. He competed in less than half of the races and won half of the 18 he did start.
Red Byron; NASCAR's First Champion
In the first NASCAR sanctioned race on February 15, 1948, Red Byron crossed the finish line with the waving of the checkered flag. He had 23 top three finishes and 11 wins. In 1949 he won the Daytona Beach Course and the Martinsville 200. He became NASCAR's first Grand National Championship winner earning 842.5 points beating drivers Lee Petty, Bob Flock, Bill Blair, and Fonty Flock who placed in the top five.
Byron retired from racing in the early 1950's and headed a sports car racing team. In November of 1960 Robert "Red" Byron passed away. He was 44 years old. Red was inducted into the National Motorsports Hall of Fame in 1966. In 1998 he was named one of NASCAR's top-50 drivers.