Tiny Lund - NASCAR Inactive - GoNascarGo.com
Tiny Lund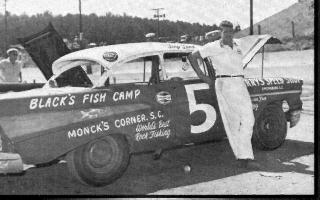 DEWAYNE "TINY" LUND
Dewayne "Tiny" Lund began his racing career at the Shelby County Speedway in Iowa. He was a big man with a big sense of humor and an even bigger heart. He was often seen giving away his trophy to a child at the end of the race day.
Tiny entered his first NASCAR race in October of 1955 at Lehi, Arkansas. On lap 65 he crashed and his car flipped several times. During the wreck his seatbelt snapped and Tiny ended up bruised up and with a broken arm. He placed 25th after starting in 23rd.
Tiny Lund the Hero
Lund is perhaps most remembered for his heroic action of pulling driver Marvin Panch from a burning wreck in February of 1963 at Daytona. Panch, unable to compete because of his injuries, asked Lund to fill in for him behind the wheel of the Wood Brothers Ford for the Daytona 500. Lund drove to the checkered flag with an average speed of 151.566 and one set of tires. Later that season he won the Modified Sportsman at Atlanta International Raceway; a 500 mile event.
In 1965, Tiny Lund won the Columbia 200, though the race was shortened due to rain and in 1966 Lund had another victory at the Beltsville 200 when Richard Petty's engine gave out on lap 71.
Tiny Lund's 21 year racing career would end when he sustained fatal injuries during a crash at the Talladega 500. He had won races in the Grand American Series, USCA, Pacific Coast Racing Association, and ARCA. Lund was inducted into the International Motorsports Hall of Fame in 1994 and is one of NASCAR's 50 Greatest Drivers. The Shelby County Speedway holds an annual race in his honor and he has been inducted into the Iowa Motorsports Hall of Fame.