Harry Gant - NASCAR Inactive - GoNascarGo.com
Harry Gant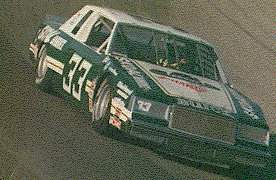 HARRY GANT
Harry Gant got his start in racing at the dirt track in Hickory, NC. He and his buddies built a hobby class car and took turns driving. When Harry took over as full time driver he won the track championship. He continued racing whenever he could and eventually found his way to the Winston Cup Series.
In 1979 Harry Gant ran his first full Winston Cup season and won his first pole position in July at Charlotte Motorspeedway. As a fellow rookie to the likes of Dale Earnhardt and Terry Labonte the battle for Rookie of the Year was a fierce one. Earnhardt ended up with the title but it wasn't decided until the last race of the season.
In 1981, "Handsome Harry", as he was known, signed on with owners Hal Needham and Burt Reynolds driving the Skoal Bandit car and his career took off. Harry had ten second place finishes before capturing his first checkered flag at Martinsville in 1982. That October Gant won his first superspeedway race at Charlotte Motorspeedway. In 1984 Gant finished second in the points race and in 1985 he was third.
Harry Gant; "Mr. September"
By 1989 the Hollywood owners called it quits and Harry Gant and the Skoal Bandit sponsorship were picked up by Leo Jackson. By 1991 "Handsome Harry" was no more. He had now become "Mr. September" after winning four races in a row starting with Darlington, Richmond, Dover Downs, and then Martinsville. He was on track to win a fifth race at North Wilksboro when he lost his brakes. With nine laps to go he had to slow down, allowing Dale Earnhardt to pull ahead and take the win. Gant also had two Busch Grand National wins that September.
In May of 1992, at Dover Downs, Harry, at 52 years and 142 days old, became the oldest Winston Cup Driver to win a 500 mile race. In August he became the oldest driver to win a Winston Cup race.
By the time Harry Gant retired in 1994 he had run a total of 444 races. In his 16 years with NASCAR Gant had eight seasons when he placed in the top-ten in overall points; six of those in the top-five. Gant also had 128 career starts in the Busch Grand National series with 14 poles, 21 wins, and 52 top-fives. He competed in four IROC series events and won the 1985 IROC Championship.
In 1995 Harry Gant was inducted into the Charlotte Motorspeedway Court of Legends. NASCAR has also named Gant one of the 50 Greatest Drivers. When asked what he wanted people to remember about his racing career Gant replied, "I'd like to be remembered as the driver of the #33 Skoal Bandit Racing car. That's all."