Lenny Pond - NASCAR Inactive - GoNascarGo.com
Lenny Pond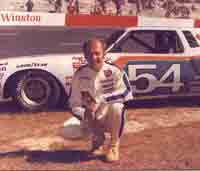 LENNY POND
Lenny Pond began his Winston Cup career in 1973. A seventh place finish in his third start, one top-5 finish, and finishing in the top-ten eight times gave Lenny Pond the Winston Cup Rookie of the Year Award in 1973 edging out a young Darrell Waltrip in what NASCAR called the closest competition ever. As the underdog winner Pond said, "I knew if they (NASCAR) went on performance alone, I would win it. Since they did, I'm very thankful."
In the 1975 season Pond took home second place at both Richmond races. After leading laps 195 through 375, during the fall race, a win seemed like a sure thing. 7 A long pit stop and then a black flag for a missing lug nut ended any hopes of a win. He ran the full Winston Cup season in 1976 and again in 1978 placing fifth and seventh in the points race.
Lenny Pond's 1978 Season
Pond was hired by Harry Rainer to drive his car in 1978, with Waddell Wilson as crew chief and head engine builder. After missing the first race in Riverside, CA they Pond placed 10th at Daytona. A week later in Richmond it looked like a checkered flag was in the future. Pond was the leader four times with a total of 142 lead laps. With only 77 laps to go Pond got a flat tire and when he returned to the track he was trailing Benny Parsons by 24 seconds. Even though Pond's had the faster car there wasn't enough track left and he finished 2.6 seconds behind Parsons. He took a second place finish in Nashville, his seventeenth career second. With rumors of Rainer replacing him with Darrell Waltrip he raced to victory at Talladega with a world record speed of 174.700. In victory lane, after a race with 67 lead changes, Pond said, "When this race started, I felt like I had the weight of the world on my shoulders, I've gone through a lot of miserable days lately. I've heard talk that I can't drive the superspeedways. I hope all that ends now."
Pond went on to finish his season with eleven top-5 finishes, five poles, and 19 top-10 finishes. He place seventh in the overall points races despite missing 2 races. However, Lenny Pond was released by Rainer at the end of the season. Waltrip did not join the team as he was still under contract with Di-Hard.
The next seven years Pond drove for many car owners and ran a limited schedule. He never recovered the momentum of his 1978 season although in 1980 he had a third place finish and was in the top-10 seven times in seventeen starts. In 1999 Lenny Pond ended his racing career at Richmond driving a Ford for Junie Dunlavey. He placed 11th.