Neil Bonnett - NASCAR Inactive - GoNascarGo.com
Neil Bonnett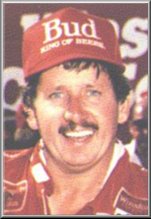 NEIL BONNETT (1946-1994)
Neil Bonnett will be remembered not only for his outstanding NASCAR career but for his amazing ability as a television commentator as well as his love of hunting and fishing.
Bonnett ran his first Winston Cup race in 1974 and in 1977 logged his first win. In 1984 Bonnett signed on with Junior Johnson and placed fourth in overall points in the 1985 season; a career high. He also had two wins at Michigan in the IROC 8 series, winning both the opening and closing races.
Neil Bonnett Retires
In 1990 Neil Bonnett was involved in a near fatal accident during the Southern 500 at Darlington. His injuries forced him to retire from racing and he began a second career in television. He ended his driving career with 18 wins (his last in 1988) and 20 poles in 352 career starts. From 1990 to 1994 Bonnett turned his likeable nature to the weekly show "Winners" on TNN. With his knowledge and respect for racing and a desire to have the fans learn as much as they could, he became a huge success.
But Neil Bonnett's true love was racing and in 1993 he decided to get back behind the wheel. His first comeback attempt ended with the #31 Richard Childress car on its roof and Bonnett, clothes changed, in the announcers booth. In 1994, still testing cars for Childress, Bonnett headed to Daytona to test for the 500. Neil Bonnett died in a crash at Daytona on February 11, 1994.