Dick May - NASCAR Inactive - GoNascarGo.com
Dick May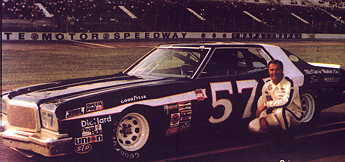 DICK MAY
Dick May is probably best known as NASCAR's pinch hitter. Though he is credited with 185 Winston Cup starts, May says, "I must have been in more than 500." The owners liked the way he could get the job done when they needed a back up driver. In the 1975 Mason Dixon 500 Dick May drove five cars for five separate owners but never completed the race. A broken throttle linkage with five laps to go sidelined him.
While in the military, Dick drove for various car owners from the motor pool. After the military he got a ride with a big electric repair company whose driver was not working out. He won some track championships while training to be a fireman and working for a trucking company.
Dick May's Career Choice
When the opportunity to become a firefighter came along he turned it down because of the weekend hours. About his choice, May said, "That would have been a great career, I would have been a great fireman, I enjoyed it, it was fun. Besides, very few fireman get fired until they do something really bad.".
May ran his first NASCAR event in 1967 at Daytona Beach. During his career through the 1970's and early '80's he was known for his ability to qualify cars and avoid crashing. Filling in for drivers sometimes meant finishing the race and never getting mentioned. The driver who started the race is the one who is given the points, regardless of who finishes it.
May never had a Winston Cup win or a pole in his 185 races. He did finish in the top-ten eight times. Dick May was around NASCAR though. He drove truck, hung banners, and worked for companies like, Sears, STP, and RJ Reynolds. May seemed to be everyone's "go to guy" if something needed to be done.